Aromatherapy bath Salts and Sachets: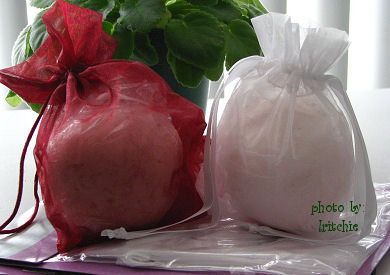 How To make a sachet for the bath:
I just take a square piece of fabric like tulle and add my herbs to it. Pick up all four corners and tie it with cord or ribbon. Just make sure the ribbon colour won't bleed. If you are using salts, powder milk or oats, I don't think tulle will work. Muslin or a loose weave fabric will work better for this.
Aromatherapy Bags for the bath:
You can make your own, but what I did was go to the $Store, to the wedding section and buy a couple packages of already made bags.
Aromatherapy recipe I use for the bath:
It usually depends what I have around the house, but here's the basics.
1 tablespoon of rolled oats
1 tablespoon of Epson salts
1 tablespoon of baking soda
1/2 cup of your favourite fresh herbs from the garden
- if your herbs are dry you probably want to use less herbs.
For
herbs
I use whatever I have like: lemon balm, mints, lavender, heirloom rose petals, eucalyptus leaves etc.
Pour all of the ingredients above in the bag and pull the ties.
Wait for everyone to get home. :)
Put bag or sachet on the bottom of the tub under the faucet. Run hot over the herbs to release the oils and then run cold water to preference. Once you're in, squeeze your aromatherapy bag once in a while to continue releasing the healing oils from your herbs.
Herbal baths are a soothing and a healthful way to relax and enjoy the aromas of varied herbs.
Healing baths:
For muscle and joint pain.
I usually just use what I have growing in the garden and like the fragrance of.
Some suggestions are:
Chamomile, Sage, Lavender, Strawberry leaves, Orange Peel, Ginger Root, Rose petals, Eucalyptus, Sandalwood, Raspberry Leaves, basil and Rosemary.
Rejuvenating Herbal Bath
Combine all of the ingredients in equal amounts.
Lavender
Tangerine Peel ( high in oils )
Rose Petals ( petals from fragrant roses - I have a "Hansa" rose bush)
Rosemary Leaves
Allow to steep in the bath.
By the time you get in, the bathroom will be filled with the aroma of fragrant, healing steam.
Link to
Bath Salts and oils
How to Dry herbs for the bath
Bath
How to make Bath oils and bath Salts 2